Localization battle, leading the trend of digital intelligent conference
---
---
Recently, the Political Bureau of the CPC Central Committee held the third collective study session. Our president Mr Xi said: We should fight hard to make scientific and technological instruments, operating systems and basic software domestically produced. And we will encourage scientific research institutions and efficient joint efforts with enterprises to tackle key problems. And we will strive to use China's independent research platforms, instruments and equipment to solve major basic research problems at an early date.
Paper will not only cause pollution to the environment, but also cause a huge waste of resources. So the domestic paperless system has made a great contribution to the environmental protection. In response to the call of the state, Restmoment installed the fourth generation full digital conference system, lifting electronic table conference system and domestic paperless conference system for a conference room in Fujian Province.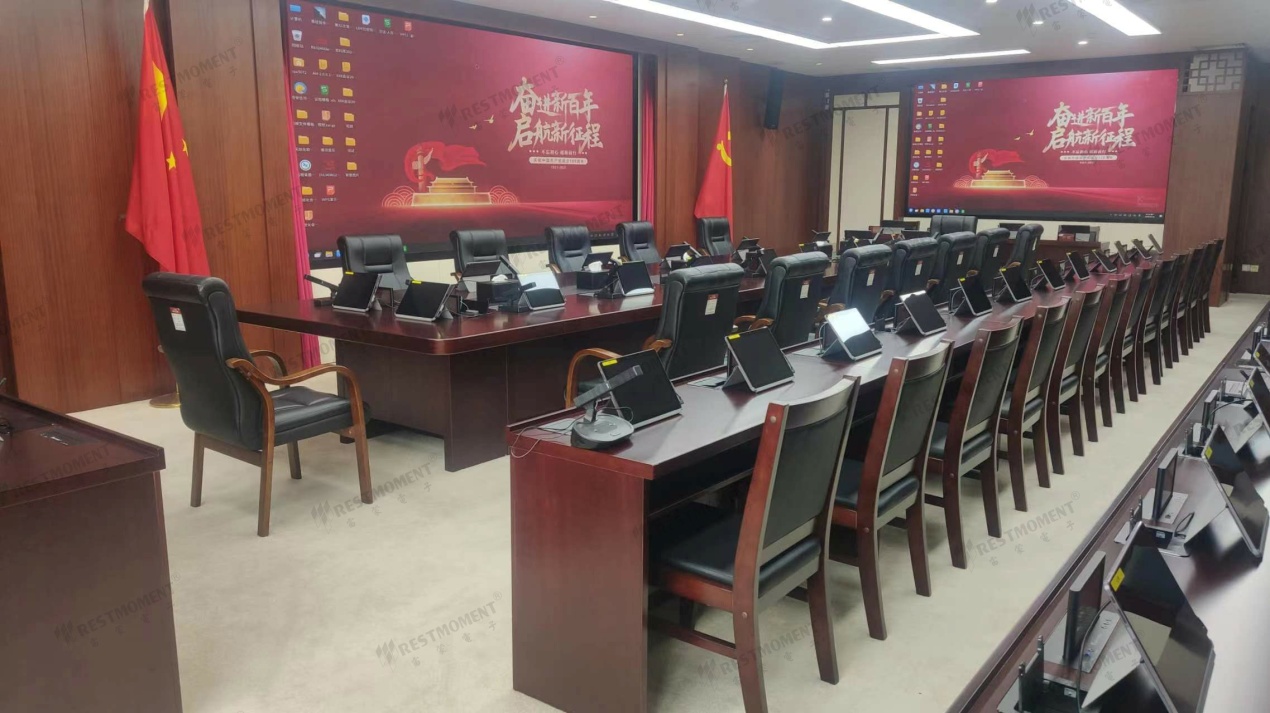 In order to meet the requests, Restmoment installed the fourth generation of full digital conference system RX-A6 series and the lifting electronic table card conference system. The fourth generation full digital conference system has the functions of discussion, automatic video tracking, super phone anti-interference and digital double backup guarantee, etc. The microphone has touch control screen, 5 EQ balance adjustment function. Each microphone can set EQ, and has manual / automatic gain adjustment, bass cut and any area output, high fidelity sound quality. The terminal of lifting electronic table card conference system adopts double-sided high resolution LCD screen, IPS wide Angle screen, 450 lumens, minimalist UI interface, humanized and intuitive operation; LOGO can be customized according to the needs of users. Also the background color can be customized; Capacitive touch screen supports multi-touch control and rich functions, making paperless meeting operations more convenient and efficient.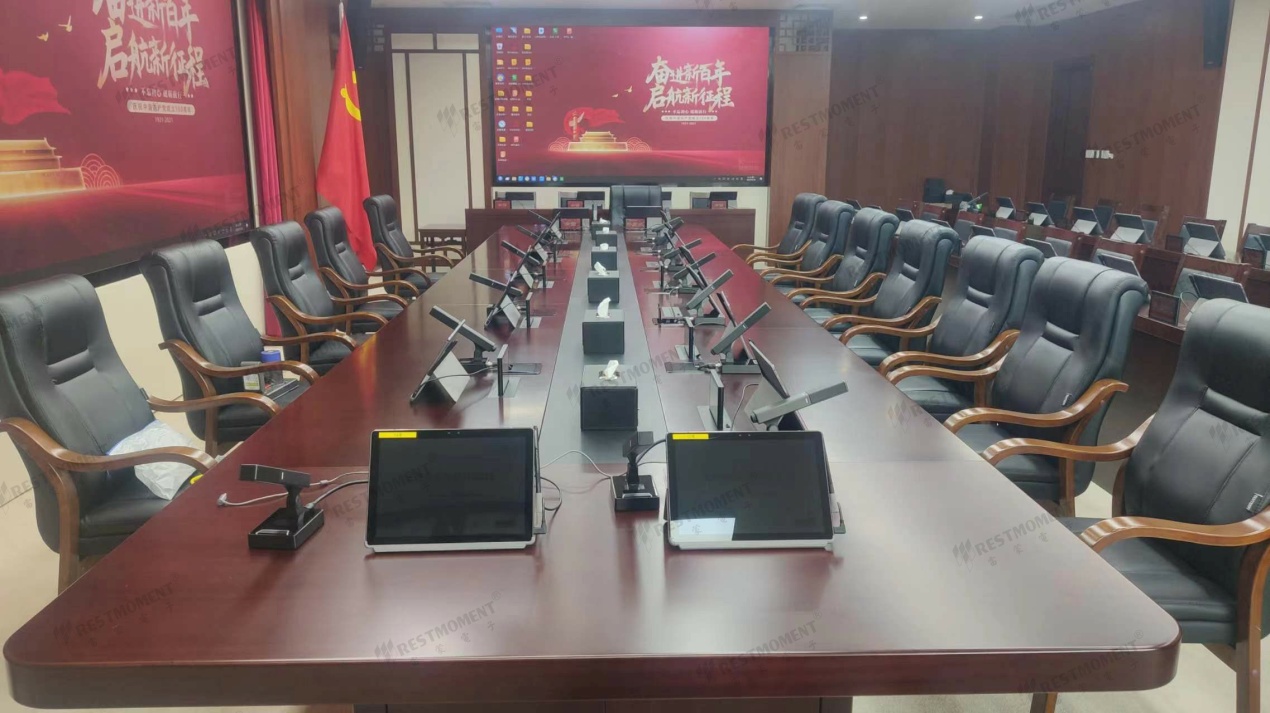 In response to the "14th Five-Year Plan" which call for the localization of information industry software, the localization of technology and technological innovation are important directions. The discipline inspection conference room installed Restmoment paperless conference system. In order to increase the information security, reliability, domestic paperless conference system is based on domestic kylin operating system/ HongMeng system. And the system is mainly designed for safety, high efficiency, energy saving, environmental protection. It can ensure that users' local meetings and teleconference can be carried out smoothly and safely. The terminal software adopts the C/S architecture to achieve the best processing capacity and stability of the client PC. It can fully respond to the needs of all kinds of meetings.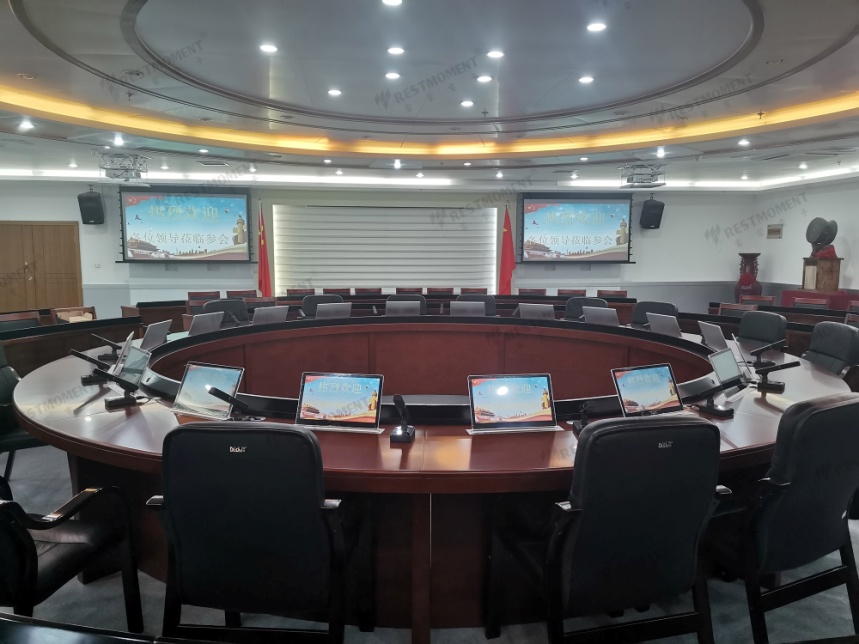 A Government office in Longyan city, Fujiang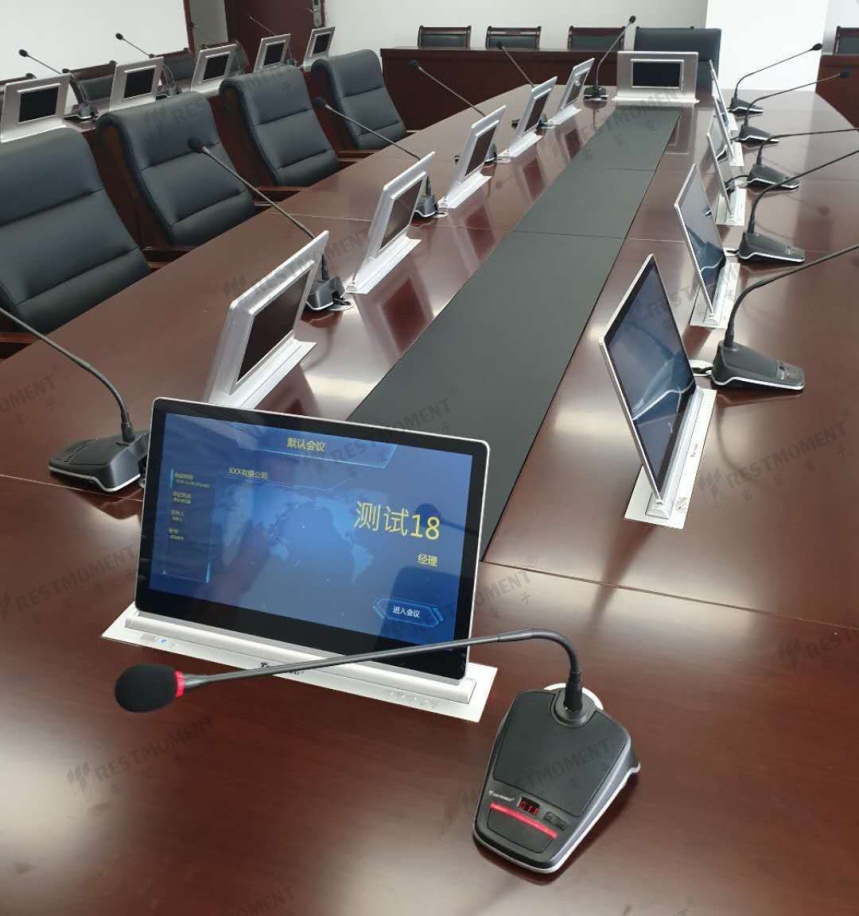 A discipline inspection commission room in Fujian Province
Restmoment intelligent digital conference once again successfully landed in Fujian Province, which is deeply loved and supported by customers. In the future, Restmoment will continue to deepen the industry and develop more domestic intelligent conference products to help government offices and enterprises to achieve high quality operation.
---